The Gold® and Platinum® awards have undergone many design changes since their beginnings in 1958.
The awards have become true collector's items.
RIAA Walnut Plaques 1958 - 1964
RIAA Awards First Gold Single Certification 1958
Perry Como for his single "Catch a Falling Star"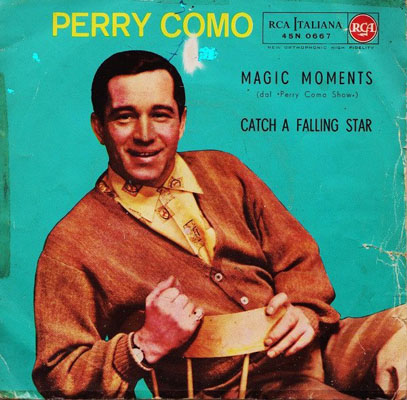 RIAA Awards First Gold Album Award 1958
Awarded to the cast album of "Oklahoma!" sung by Gordon MacRae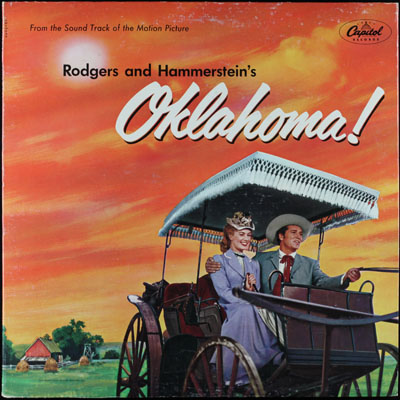 Elvis's First Gold Award 1958
for the song "Hard Headed Woman"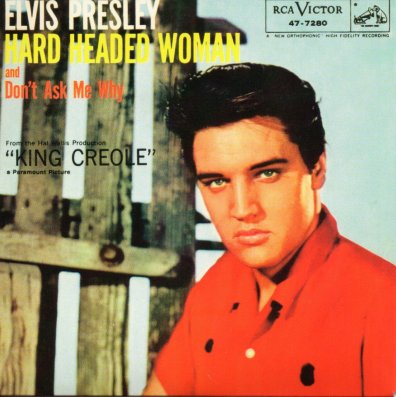 "White Matte" Awards ( start 1964 - Febr. 1975 )
The plaques were an off-white linen material displayed in a brown , stained wood frame. The dedication on the plate was engraved with an acid etched RIAA® seal (not silk screened) and a mini-cover of the LP was mounted separately from the plate. The record is a metal stamper , no vinyl disc. For approximately six months, February to August 1969, the mini album cover was reversed to the right. Between 5-25 awards made for each certification. Made exclusively by New York Frame & Picture Co.
RIAA White Matte Gold Record Awards for albums were based on dollar amounts — the number of records sold was irrelevant!
The Awards were given out for the sale of more than one million dollars worth of the long-playing record album
RIAA White Matte Gold Record Awards for single records
Were given out for the sale of more than one million copies of the pop single record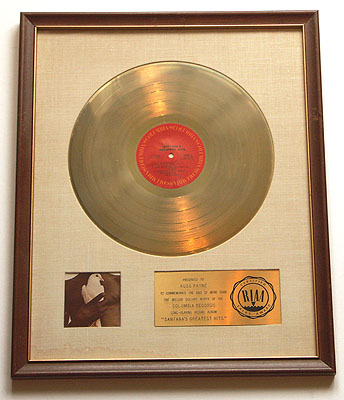 "Floater" Style Awards ( March 1975- Dec. 1981 )
The award background was usually a pebble grained , black matte enclosed in a wood frame painted either gold or silver .
They use gold or silver leaf paint and the golds have either red or black primer showing. The platinum awards have black primer mixed in.
The disc and plate appeared to "float" between the background and a layer of Plexiglass. The record is a metal stamper , no vinyl disc.
The mini-cover of the LP was mounted separately from the presentation plate. In 1975 Creative Glassics began manufacturing RIAA awards in addition to New York Frame & Picture Co.
The Platinum Record, has been introduced in 1976, for sales of 1 million or more. The first platinum LP Floater award was for The Eagles' "Greatest Hits 1971-1975" certified on February 24, 1976.
Johnny Taylor's "Disco Lady" was the first platinum 45, certified on March 11, 1976. They had "platinum" frames, discs, and plates.Between 25-50 awards made for each certification.
Fitzgerald/Hartley made this style until early 1985 ( Without an actual RIAA License )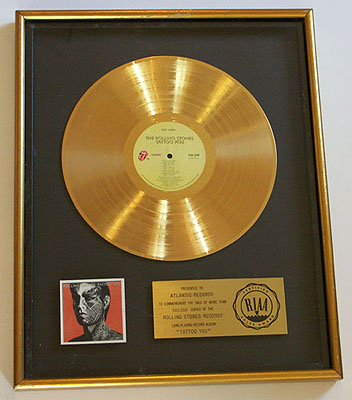 "Strip-Plate" Style Awards ( Jan. 1982- March 1985 )
The pebble grained award background was dark ( black , dark brown ) . They had gold or silver painted wood frames (no black frames). The record is a metal stamper , no vinyl disc. Unlike previous awards, the mini-cover of the LP was included on the presentation strip plate. Multi-Platinum awards began in autumn 1984 for recordings of 2 million or more. Multi platinum strip plate awards ( multi platinum only ) , were made between autumn 1984 and spring 1985 . They have a silver aluminium frame and were also the first to contain a silver-plated cassette, acknowledging the increasing contribution of cassette tapes toward sales. The cassettes were located directly beneath the LP itself. 50 to 75 awards might be made for each certification.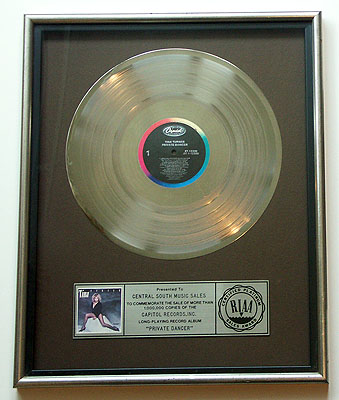 ...............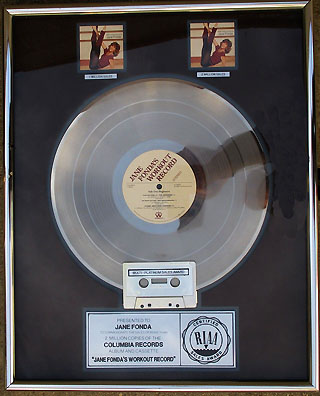 "Flower - Hologram" 1st Hologram Style Awards ( March 1985 - Fall 1989 )
An RIAA® holographic seal incorporating the RIAA® logo has appeared on all RIAA® plaques since March 1985. The hologram is used to prevent unauthorized duplication of awards, and usually appears on the presentation plate along with the dedication and mini-album cover. The frame is a black plastic covered (black formica) wood frame. Formats and standards of presentation loosened and could now include cassettes, custom graphics and plates, but no CD. Unique designs in size, shape, mattes, use of images and placement of the RIAA logo emerged.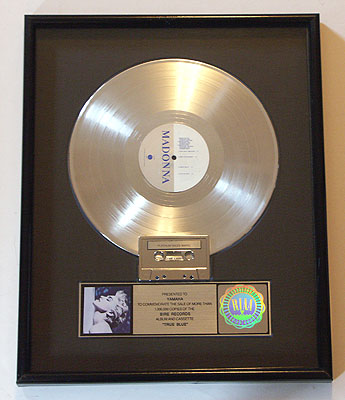 "R" Style Hologram Awards ( Fall 1989 - 1997 )Hologram " R " Style ( Fall 1989 - 1997 ) Protecting the use of the Gold® and Platinum® marks is essential to maintaining the integrity of the program. RIAA awards began to reflect different formats and standards of presentation, which could now include multiple records, cassettes, CD's, and custom graphics.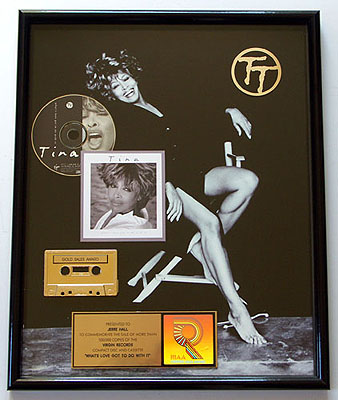 In 1997, the RIAA® developed a new numbered "bar" hologram to combat the increasing number of counterfeit awards. These security-enhanced seals feature sequential numbering and are embedded with covert anti-counterfeiting information. (These numbers do not correspond to any limited editions or manufacturing for any particular award and should not be perceived as holding added value.)
After the hologram style of awards was introduced, the traditional size and style restrictions for awards were relaxed, giving record companies more freedom in choosing a design for a particular award. Customized awards and impressive designs, which now include the CD configuration, are a collaborative effort on the part of the record label and the licensed plaque manufacturer. The collectible value of these awards depends on a number of factors including the artist, title, presenter, format and condition of each award.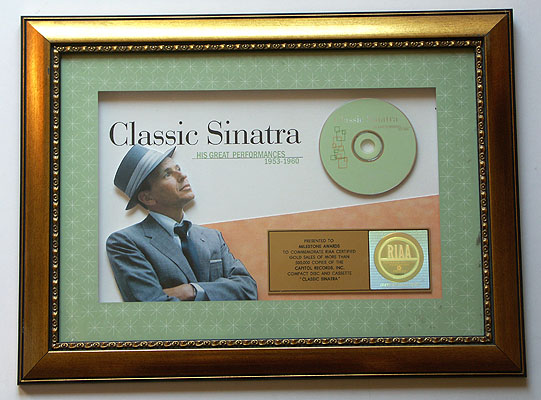 Diamond Records are given for shipments of 10 million records. The award was initiated in 1999 . Diamond Awards (1999 to present) Renowned crystal designer Peter Wayne Yenawine has designed the Diamond® Award especially for the RIAA®. Yenawine was a master designer at Steuben Glass, and has been commissioned by the past five presidential administrations to create personal gifts. Crystal Signatures, using the world's finest lead crystal, produce the awards under Yenawine's direction. The Diamond® Award is adorned with a 728-ct. crystal diamond placed in a faceted sterling silver setting. Each setting is engraved with the RIAA® logo and the initials of the designer. The 12" high award sits atop a black tapered, 3 1/2" high base, engraved with artist presentation text.
A very small number of these plaques are manufactured and presented to the artists, music industry executives, and people who worked on the record being honored.
The album "Their Greatest Hits (1971-1975)" by the US rock band Eagles is the best selling US record in history. ( 38 Million sales )
Michael Jackson "Thriller" occupies the second place. ( 33 Million sales )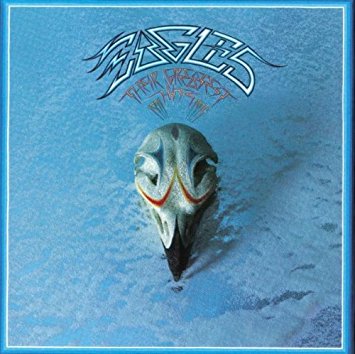 RIAA Format Summary

Walnut Plaques: 1958-1964

White Mattes: 1964-1975

Floaters: 1975-1981

Strip-Plates: 1981-1985

Flower Holograms: 1985-1989

R Holograms: 1989-1997

Bar Holograms: 1997-current
1964 The Beatles earn their first Gold Album Award for "Meet The Beatles!" (Capitol Records).1976 The Eagles' "Eagles/Their Greatest Hits 1971-1975" (Elektra) becomes the RIAA's First Platinum Album:1976 Johnnie Taylor's "Disco Lady" (Columbia) earns the RIAA's first Platinum Single Award .1979 Pink Floyd's "The Wall" (Atlantic Records) hits stores, eventually becoming one of the RIAA's top five certified albums of all time at 23X multi-Platinum.1982 Michael Jackson`s "Thriller" is the second highest certified album ever at 33X multi-Platinum.1984 RIAA introduces the Multi-Platinum category. The popularity of cassettes and introduction of CDs leads to the implementationof this award for album sales of two million and counting.1985 Columbia Records' song "We Are The World" by USA For Africa becomes the RIAA's very first multi-Platinum song at 4X multi-Platinum. Later in the year, the album by the same title certifies 3X multi-Platinum.1992 Whitney Houston's "The Bodyguard (Soundtrack)"The album is now the highest certified soundtrack ever at 18X multi-Platinum.1997 Sir Elton John releases "Candle in the Wind 1997/Something About the Way You Look Tonight" (Rocket), the only physical single Diamond Award1999 RIAA Unveils Official Diamond AwardThe Diamond Award is established to honor sales of 10 million copies or more of an album or song.2000 Santana's "Supernatural" Achieves Diamond in One YearArista Records' 1999 "Supernatural" release earns Santana 10X multi-Platinum stature within one year of release. 2004 The Digital Single Award is introduced in recognition of the significant sales of emerging digital music formats.2005 The RIAA's first Platinum Digital Single Award goes to Gwen Stefani for her "Hollaback Girl" (Interscope) selling more than one million downloads.2006 The Eagles hit album "Eagles/Their Greatest Hits 1971-1975" (Elektra) achieves coveted 29X multi-Platinum status. More than 40 years later, one of music's essential albums is the RIAA's second highest certified ever.2009 Lil Wayne's ringtone "Lollipop" (Cash Money/Universal) becomes the highest certified ringtone to date at 5X multi-Platinum.2011 RIAA adds on-demand music streams to its single and album awards as services like Spotify, Rhapsody, Amazon, Tidal, Vevo, Apple Musicback